Luxury Styling
Plush, adjustable seat provides exceptional comfort with multiple customization options.
Spacing-Saving Rail
Unique vertical rail leaves maximum open space on steps. Covered gear rack reduces exposure to grease, dirt.
Easy Operation
Armrest control glides stairlift smoothly up/down. Two wireless remotes also included. Fold stairlift when not in use to save extra space.
Integrated Safety
Swivel seat rotates up to 90° for safe exit at top landing. Obstruction sensors and retractable seat belt ensure safety.
Dependable, Smooth Performance
Gentle, quiet ride with soft start/stop. Continuously-charging battery operation ensures stairlift works even in power outage.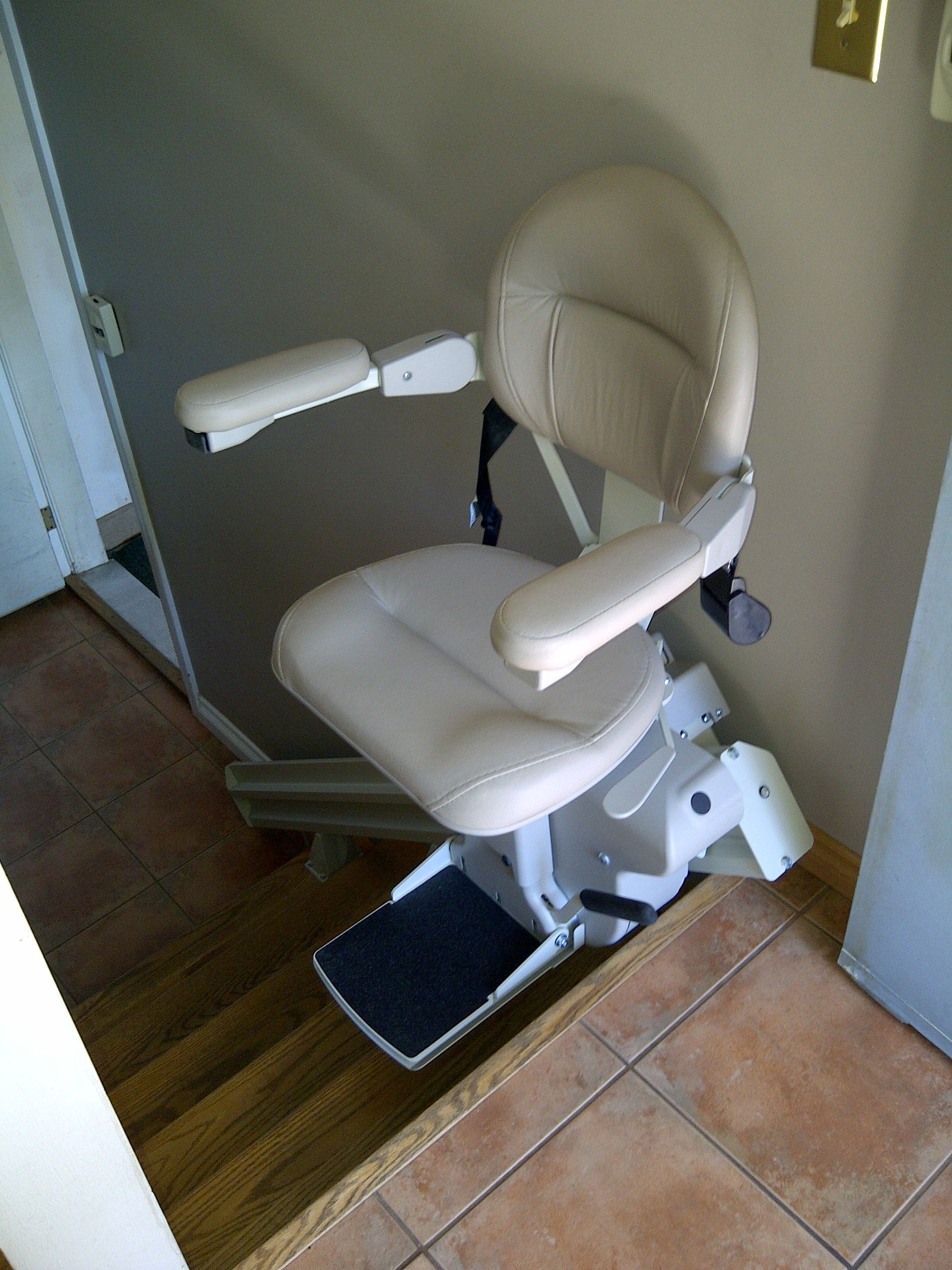 The Elite is Bruno's luxury quality, high-lift capacity indoor stairlift model. The Elite offers plush padding, a high seat back, more seat and footrest adjustability and a 400 lb lift capacity.
What Are Popular Indoor Elite Straight Options?
A power folding footrest is a back-friendly option that allows the footrest and seat to fold without leaning over, and an oversized seat cushion is a common option to better fit an individual body type. If you have a doorway at the bottom of your stairs or a situation where a stairlift rail may create an obstruction, you may wish to consider a manual or power folding rail.
What Is A Benefit Of Elite Straight Stairlift's Rail?
Other stairlift brands use a horizonal rail with exposed gear rack, but Bruno's Elite straight uses a vertical rail with covered gear rack. The unique vertical rail installs close to the wall, maximizing open space on the stairs. In addition, Bruno's covered gear rack reduces exposure to dirt and grease and gives a more aesthetically pleasing appearance.
How Is A Bruno Elite Indoor Straight Stairlift Powered?
The Bruno Elite stair lift uses two 12v maintenance-free batteries that are continuously charging anywhere the unit stops of the rail. Therefore, your stairlift will operate, for multiple round trips, even if you lose power.